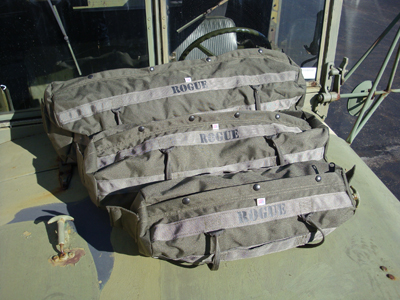 You do not really know what functional fitness is until you have done workouts with sand bags. ROGUE TACTICAL Sand Bags have 3 separate handles allowing for a vast range of carrying methods and movements, and if you really want to make things difficult, you can avoid the handles all together. Lifting a sand bag adds a dimension to the workout that a stiff, more predictable and controllable weight like a barbell can not provide. The softness also makes them safe to run with both inside and outside the gym.
They are fantastic for both individual and team workouts, as was shown at the 2010 CrossFit games, where they really took a beating and kept going strong. Possible movements include, but are not limited to: Shoulder carries, team carries, farmers walks, cleans, jerks, thrusters, snatches, squats, swings.
They come in three sizes, fillable up to 45 pounds, 80 pounds and 160 pounds. The extremes were chosen to match the weight of an empty barbell and the average weight of an adult male. However, a 45 pound sand bag is much harder to move around than a bar, and carrying the large sand bag is similar to rescuing an unconscious man who can not help you get him into position. The medium weight can be used for a wide range of movements, and is an ideal weight for loaded runs.
ROGUE TACTICAL Sand Bags are made in America with American made 1000D MIL Spec CORDURA, that means they are tough as nails! This material is relied upon in the most austere of conditions every day!
Each bag and filler is hand made in Ohio and inspected to meet the Rogue Specifications by a retired Special Ops Team Sergeant. Attention to detail is first and foremost.