Purchasing goods made in the U.S.A has always been synonymous with quality. It's something that Rogue strives for and has been our mantra since day one. But why are U.S made goods quality goods? It's the tedious dedication and work ethic of the men and women that make those products. They are proud of the product they make and that they stand behind. It is craftsmanship fueled by the satisfaction of making something that speaks to our skill, knowledge and expertise. We make what we would want to buy. Something like a golden rule of manufacturing.
This year for Bill's birthday Caity's gift was a prime example of that kind of American craftsmanship. Benchmade Knife Company started as a small shop in Oregon about twenty years ago. Similar to Rogue, they took their passion for well made goods to work in a small space using second hand equipment. As their knives became more popular and sought after because of their strength, beauty, and ultimate bad-assery they increased their business many fold and added many U.S. jobs to the market. They are leaders in innovation in their industry and bring the market some world-class goods. Benchmade we salute you.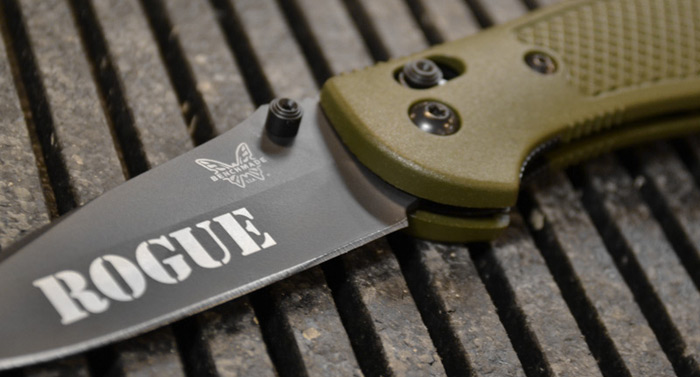 Of course Caity's customizations really put the Rogue in this Benchmade Beauty. Happy Birthday Bill!