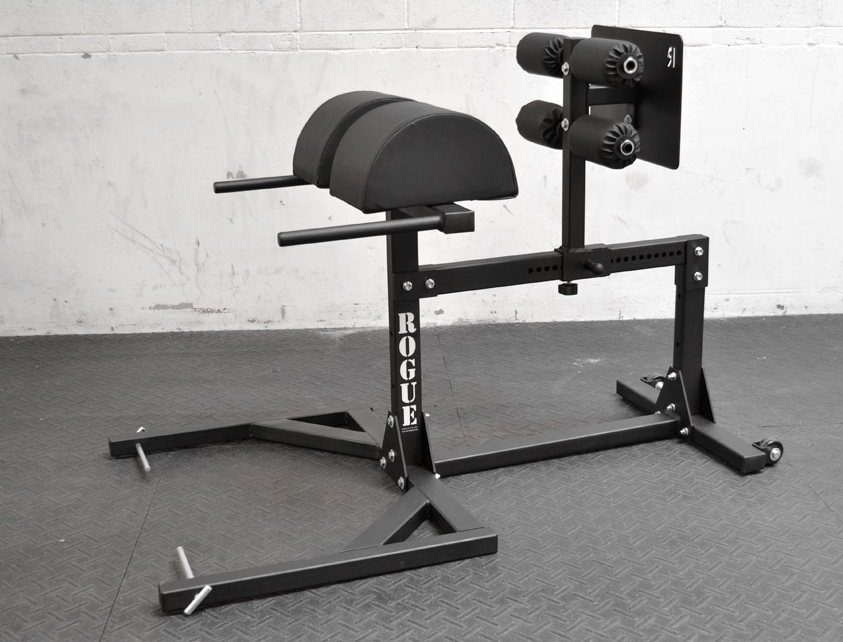 Over a year in the making, the Rogue Abram GHD is the most stable Glute Ham Developer on the market. You could say that it is as stable as GHD's costing twice as much or even three times as much, because it just does not move. It ships fully disassembled to save on shipping costs but due to the design, feels like it is a single welded piece.
The most important part of any GHD is the hip pad. If this is uncomfortable, using the machine becomes a chore. The oversized split hip pad is the perfect firmness to allow support without discomfort and the shape is perfect for glute ham raises.  As if this were not enough, the pads even have moisture wicking upholstery.
Every detail of the design was scrutinized, including the distance from the foot pads to the foot plate, which is slightly shorter than most, to provide a secure foot hold for GHD situps and ensure your foot stays on the footplate for back extensions and glute ham raises. The oversized 3/16th inch laser cut foot plate ensures that you will never end up with your toes hanging over the edge, and the upholstered pads will hold up through years of abuse.
The height of the foot plates and foot pad were set to allow maximum muscle recruitment. The distance of the footplate to the hip pad is adjustable in 1 inch increments and the length of the cross member will accommodate even the tallest athletes. The wide hip pads and and widely placed handles will accommodate even the largest athletes.
The 2×3 inch steel construction and large front base contribute to the stability of the machine. Having a 2×3 inch crossmember also adds to the stability of the upright. Like everything else on this over-engineered machine, we did not stop there, there are not one, but 2 stabilizing bolts at right angles to each other. They do not minimize motion of foot plate, they eliminate it.
Band pin holes are provided in the base to allow the use Rogue Monster Bands. This indispensable training aid is perfect for athletes ready to move on to the next level.
One of the biggest problems with a GHD made to be stable is that it is a hassle to move around usually requiring at least 2, if not 3 or 4 people to move the machine for a specific workout setup.  However, the provided wheels on the rear base of the Abrams GHD make it easy for a single person to move around the gym.
Like all of Rogue's made in the U.S.A equipment, this GHD is built to last and will hold up to abuse in a commercial gym. There is not a more durable, functional or stable GHD at any price. The fact that this GHD is made in Ohio and is one of the most reasonably priced on the market makes it the best value available.