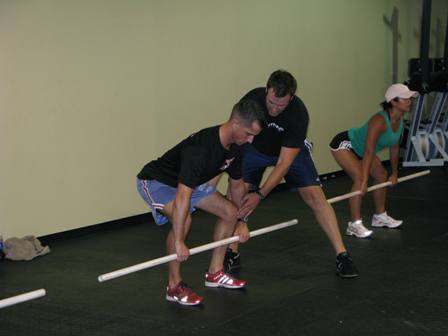 Eddie Clark coaching a few athletes in the Elements session this evening.  They are seen here learning the deadlift.
Every Monday we cycle new recruits through our Elements program, we have 3 new members here at Rogue.  The Elements are designed to address any questions or fears you may have about CrossFit or Rogue Training.  We explain in detail the program then we teach you how to safely get the bar from the ground to overhead.
We teach with PVC which weighs less than 5lbs so you don't need to worry about us requiring you to lift abnormal amounts of weight, that is up to you.  We scale our workouts to fit anyone from a soccer mom to a Navy BUDS candidate.  We train families at the same time and in the same class.
The first Elements class is free, if you are interested just fill out the Rogue Contact form
If you want results and are willing to work hard, you have found your new home!