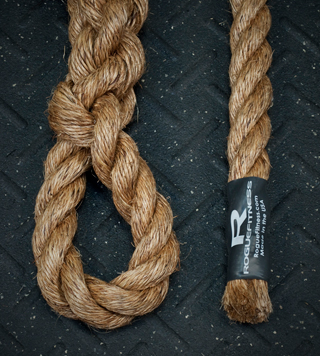 Of the hardest parts about getting climbing ropes into your gym is figuring out how to hang them. We have taken the difficulty out of the process by splicing an eyelet in to the rope that allows you to throw it over any branch, bar, beam or rafter and then pass then end through the eyelet. If you want to attach it to a beam using an eyebolt, you can pass a carabineer through the eyelet.
There are several methods of climbing a rope including: with feet, without feet, L-sit and inverted. You should master all of them. There are also modified versions where you pull yourself to standing using the rope. This can be used to develop the strength to climb the rope, or can be used a workout for more advanced athletes by forcing them to just touch and go at the bottom.
These are the same ropes that have been used for the past 2 years at the CrossFit Games. In 2010, it became apparent that many people were neglecting rope climbs in their workouts. Don't be caught unprepared, get yourself a climbing rope and start incorporating rope climbs into your workouts today!