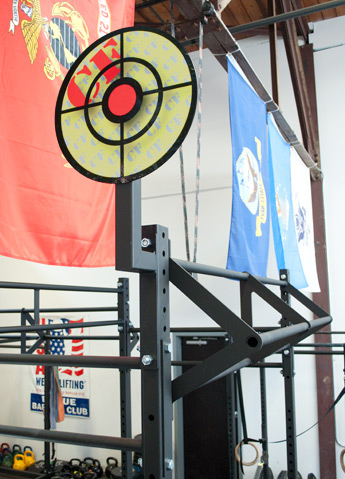 One of the problems with painting a wall ball target on the wall is that, even if the athlete misses the target, the ball returns to them and they get to keep going. This is one of the reasons that the original wall ball targets at CrossFit Santa Cruz were placed out away from the loft to which they were attached. Another problem is that your nicely painted walls get all scuffed up.
The Rogue Infinity Rig Wall Ball Target allows you to do wall ball they way it was intended. If you miss the target, you will end up chasing the ball, encouraging strict accuracy.
It is a 16 inch unbreakable steel target and when attached to an 9 or 12 foot Infinity Rack upright, it can be placed with the center line at 9 feet, to meet the women's standards for the 2010 CrossFit Open, 9.5 feet or the men's standard of 10 feet. It also has a cross hair target on the face to assist with your aim. This can help you put the finishing touches on your perfect commercial or home gym.